Galaxy High Tech will bring ceramic copper-clad substrates to the 2013 High-tech LED Lighting Exhibition>
[Text / high-tech LED reporter Gao Jinyu]

With the increasing popularity of high-power LED applications, heat dissipation is still the bottleneck affecting the performance of high-power LED products, the high thermal conductivity of LED ceramic copper-coated heat sink (DBC) and its low thermal expansion coefficient The similarity to the thermal expansion coefficient of semiconductor chips makes it the first choice for high-power LED packages.

Zibo Linyi Yinhe High-tech Development Co., Ltd. (hereinafter referred to as "Yinhe High-Tech") independently developed and produced ceramic copper-clad substrates successfully passed the national technical appraisal in February 2002, filling the domestic gap and taking the lead in mass production; In the year, the company obtained two patents for invention and utility model of high-power LED ceramic copper-clad heat-dissipating substrate.

There are various methods for achieving metal and ceramic bonding, and effective alloying methods widely used in the industry are thick film method and molybdenum manganese method.

The thick film method consists of pressing fine particles of precious metals together by crimping together, and then adhering the molten glass to the ceramic, so that the conductive properties of the thick film are inferior to those of the metallic copper.

Although the molybdenum-manganese method has a relatively high electrical conductivity of the metal layer, the thickness of the metal layer is often very thin, less than 25 μm, which limits the surge resistance of the high-power module assembly.

Therefore, there must be a new method of cermet bonding to improve the electrical conductivity of the metal layer and the ability to withstand large currents, reduce the thermal resistance between the metal layer and the ceramic, and the process is not complicated. The direct bonding technology of copper and ceramics solves the above problems and opens up new trends for the development of power electronic devices.

On November 25th, Galaxy Hi-Tech will bring the LED ceramic copper-clad substrate to the 2013 High-tech LED Lighting Exhibition.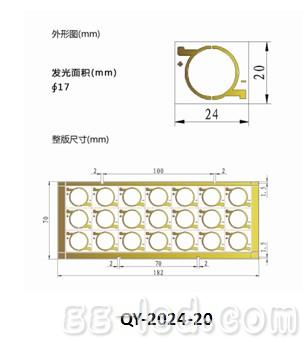 Features:
1. High thermal conductivity can improve the working efficiency of semiconductor chips and prolong their service life.
2. The expansion coefficient is close to that of silicon, and it has excellent resistance to cold and heat cycles.
3. The copper layer has high peeling strength and strong current conduction capability.
4. It has low thermal resistance and good stability under high temperature environment.
5. High insulation strength to ensure personal safety and equipment protection.
6. The material is tested by SGS, safe, non-toxic and harmless.
Full-page specification (mm) 182×70
The number of full plates (pieces) 21
Tile thickness (mm) 1.0
Copper-clad parameters (mm) single-sided copper-clad front: 0.1
Surface coating thickness (μm) Front gold plating: 0.075~0.1
Ceramic dielectric strength (kV/mm) ≥14
Insulation voltage (VAC(RMS)) ≥3000
Tensile strength (kN/cm2) ≥5
Peeling strength (N/mm) ≥6
Thermal conductivity (W/m·K) 28
Thermal expansion coefficient (1 × 10 -6 / ° C) ≤ 7.4 (50 ~ 200 ° C)
Adapt to temperature range (°C) -55~+850
Hydrogen embrittlement temperature (°C) 400
Al2O3 content (%) ≥ 96
Package power 10W-20W
Field of use Bulbs, spotlights, counter lights, spotlights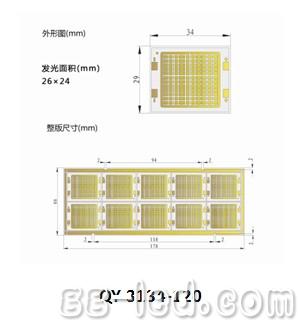 Features:
1. High thermal conductivity can improve the working efficiency of semiconductor chips and prolong their service life.
2. The expansion coefficient is close to that of silicon, and it has excellent resistance to cold and heat cycles.
3. The copper layer has high peeling strength and strong current conduction capability.
4. It has low thermal resistance and good stability under high temperature environment.
5. High insulation strength to ensure personal safety and equipment protection.
6. The material is tested by SGS, safe, non-toxic and harmless.
Full-page specification (mm) 178×66
The number of full plates (pieces) 10
Porcelain thickness (mm) 0.38
Copper-clad parameters (mm) Double-sided copper front: 0.1; back: 0.3
Surface plating thickness (μm) front gold plating: 0.075-0.1; back nickel plating: 1 ~ 7
Solder mask (color) white Ceramic dielectric strength (kV/mm) ≥14
Insulation voltage (VAC(RMS)) ≥3000
Tensile strength (kN/cm2) ≥5
Peeling strength (N/mm) ≥6
Thermal conductivity (W/m·K) 50
Thermal expansion coefficient (1 × 10 -6 / ° C) ≤ 7.4 (50 ~ 200 ° C)
Adapt to temperature range (°C) -55~+850
Hydrogen embrittlement temperature (°C) 400
Al2O3 content (%) ≥ 96
Package power 50W-120W
Field of use Mining lights, projection lights, track lights, street lights, floodlights

Headlight is Powerful light at the front of a vehicle. One motorcycle usually needs a one or two bulbs. It is depend on the original lamp design. Driver need power light to illuminate the road in front of them to keep them safe, so the halogen bulbs are usually been used as headlight. Halogen bulb can generate more light and has better working life hours. The supply voltage of halogen lamp is usually divided into 6V, 12V and 24V. The halogen lamp is made of tungsten, but it is enclosed in a smaller quartz glass shell. Normally, the halogen bulb will create ultraviolet when light, so we must use quartz coating to prevent head lamp been damaged by the ultraviolet generated by halogen bulb. To generate more light, the filament be heated to the very high temperature, so halogen bulb is hotter than a normal bulb.

Headlight Bulbs,LED Headlight Bulbs,Dual Color Yellow Lamp,Fog Light

Heshan Jianhao Lighting Industrial Co., Ltd. , https://www.sunclubtw.com