Dongshan Precision will bring a series of LED lamps to the high-tech LED lighting exhibition>
[Text / high-tech LED reporter Liu Pingping]

"This year's high-tech LED lighting exhibition, we will bring a series of lighting products such as LED high bay light, LED T8 tube, LED panel light, LED downlight and so on." Suzhou Dongshan Precision Manufacturing Co., Ltd. (hereinafter referred to as "Dongshan Precision", 002384.SZ) Xiao Junyun, general manager of the LED lighting division revealed that the LED high-altitude lamp, the Tiankui series, was independently packaged by Dongshan Precision COB lamp beads. It reaches 90lm/w, adopts the innovative sunflower design of Dongshan Precision, and adopts multi-angle secondary lens to make the light transmission more uniform. In addition, the high-altitude lamp also uses ADC12 die-cast aluminum, and its 3D stereo through-heat flow channel design completely eliminates the thermal bottleneck.

Dongshan Precision is a high-tech integrated service manufacturing listed company, which mainly includes sales and services of precision module manufacturing, smart devices, semiconductors, LED packaging, LED lighting, and new energy.

As the company's future strategic plan, Dongshan Lighting, with the company's overall LED industry chain advantage and sufficient technology and talent reserves, provides customers with higher quality products, more advantageous prices, better services, and leads LED lighting quickly. universal.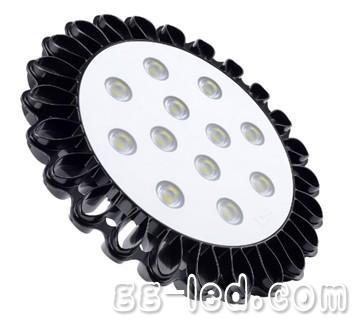 Tiankui series LED industrial and mining

"Our all-plastic series LED T8 tube has a luminous efficacy of more than 100lm/w, five-sided illumination, imported optical PC translucent cover, light transmittance of over 92%, no dark areas, and its vibration resistance is very good. The monthly light effect of Haoyue series LED panel light is more than 85lm/w, the color rendering index is more than 80, and the service life can reach more than 30,000 hours. Thanks to the imported optical grade PS+ABS synthetic material, good flame retardant effect can be achieved. Tiangong series LED The downlight adopts a secondary anti-glare ring design, using high-quality stretched aluminum as a heat sink, with high thermal conductivity and good heat dissipation."

Xiao Junyun said that Dongshan Precision's series of lighting products are very guaranteed in quality. "Our lamp beads are packaged by ourselves, the lamp molds are developed by ourselves, and the power drive is also produced by ourselves. Therefore, we strictly control the quality and cost control."

The raw materials used by Dongshan Precision are first-line brands at home and abroad. Xiao Junyun stressed, "Our phosphors are used in the United States, organic silica gel is Dow Corning, packaging equipment is used in Japan Canon and other brands, and chips are used in Taiwan Jingyuan and other manufacturers."

In addition, Dongshan Precision also has a complete quality inspection system. "We have integrated quality testing equipment such as integrating sphere, distributed photometer, BM-7, etc. All products have undergone rigorous testing and issued test reports." Xiao Junyun Say.

3 Liter Oil Deep Fryer,3L Capacity Deep Fryer,Electrical Deep Fryer,Stainless Steel Deep Fryer

Shaoxing Haoda Electrical Appliance Co.,Ltd , https://www.zjhaoda.com