Hangke Optoelectronics won the 2011 Gaogong LED annual selection of enterprises and products double awards>
From December 9th to 10th, the 2011 High-tech LED Annual Conference was held in Shenzhen Qingqing World as scheduled. The most exciting moment is the "2011 High-tech LED Annual Awards Appreciation Evening", which was staged at 19:00 on the evening of the 9th, which is called the "Oscar" festival in the LED industry. After nearly two months of selection, the major awards. It was announced one by one that night.

The selection activity was officially launched on October 15th. Through the nomination of industry experts, self-recommendation, netizen voting, survey verification, jury evaluation, etc., the CEO Award, Top Ten Famous Brands, Best Enterprise Awards, Best Product awards, best application engineering awards and other five categories of awards, eleven categories of awards.

Established in 1998, Hangke Optoelectronics has led the drafting of national standards for LED street lamps. Its products are mainly in-line LED, piranha LED, SMD LED, power LED and LED module.

One of the largest power LED packaging companies in China. In 2010, domestic packaging companies faced Taiwan's intrusion, the upstream chip supply was tight, and sales and capacity were upside down. In such a harsh living environment, Hangke is ranked in the top ten in the competitiveness ranking of China's LED packaging enterprises with a monthly capacity of 150 KK and comprehensive strength.

At the same time, Hangke spared no effort to push them to prepare for the "value-added service" concept for two years, and to open a service brand that provides downstream light fixture manufacturers with light, color, electricity and heat solutions in the field of LED lighting, and strive to be the "Intel" in the LED industry. ".

In the fierce competition of this year's selection, Hangke Optoelectronics won the "Best Development Potential Enterprise" award, and its product "Aurora" COB fluorescent lamp series module won the "Best Design Product Award".

The jury believes that Hangke Optoelectronics is involved in materials, under the lighting module, to find a balance between the top of the quality pyramid and market share, and to integrate "value-added services" into a minimalist LED lighting solution with LED "Apple" style.

The "Aurora" COB fluorescent lamp series module "seems simple, low cost, high heat dissipation, and explains the new concept of LED light source", so it has no suspense to win the "Best Local Design Product Award".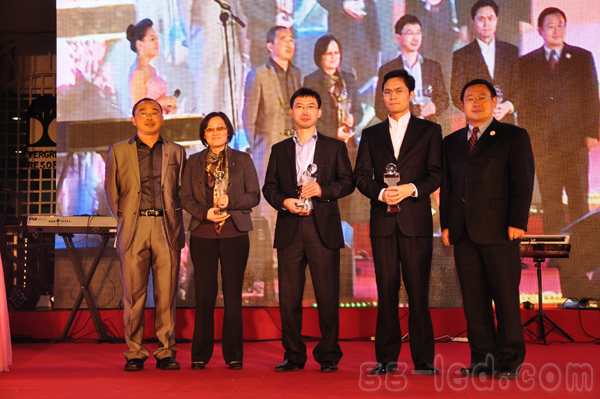 The second right of the picture is the representative of Hangke Optoelectronics

Using latest technology and expertise knowledge, we are indulged in providing Monocrystalline Solar Panel. Our Monocrystalline Solar Panel is highly appreciated amongst clients for its excellent features such as reliable operation and dimensional accuracy. Clients can buy this product from us at industrial leading price.

Monocrystalline Solar Panel

Monocrystalline Solar Panel,Monocrystalline Silicon Solar Panel,High Transmission Rate Solar Panel,Photovoltaic Cell Solar Panel

Delight Eco Energy Supplies Co., Ltd. , https://www.cndelight.com