Zhongshan LED Lighting: Although it still needs to be strong>
From outdoor decoration, engineering lighting, light source packaging to lighting applications, the current development of LED semiconductor lighting in Zhongshan's new energy industry is growing rapidly. The industry has a complete industrial chain and fruitful results, and has led the development of the domestic LED industry.

Although Zhongshan's LED industry has made great progress in recent years, many international giants are currently smashing the big cake of LED. Some experts pointed out that the status quo of Zhongshan LED industry still needs to be "strengthened".

Data show that last year, Zhongshan LED output value reached 6.5 billion yuan. According to the plan, the LED industry will achieve an output value of 50 billion yuan by 2012.

Last year, LED production value reached 6.5 billion yuan

Compared with other towns that are currently developing the LED industry, the new town of new energy is relatively low-key. However, in 2009, the output value of LED and solar photovoltaic industry in Guzhen has reached 3.5 billion yuan, accounting for more than half of the city's total output value of 6.5 billion yuan.

Su Jinming, the mayor of Guzhen Town, said that the LED industry in Guzhen started from the landscape lighting project. In 2003, due to the success of ultra-high-brightness LED industrialization and the launch of LED digital cannons, guardrail tubes and other products in Shenzhen Exhibition and Hong Kong Exhibition, Guzhen began to launch the LED lighting market and gradually shortened the gap with the first-developed regions such as Shenzhen.

Future main focus on lighting applications

In contrast, the path taken by the ancient town is quite different from that of other towns: dominated by the market, specializing in the LED lighting application market.

"At present, in the entire LED industry chain, high-power packaging and lighting applications are the most profitable. In terms of high-power packaging, the current market competition is already very fierce, and it may be difficult to compete when cutting in. In combination with the advantages of the ancient town, we will continue to focus on lighting applications in the field of LE D in the future," said Deng Gencheng, deputy director of the Guzhen Economic and Trade Office and director of the Quality and Technical Supervision Office.

LED development still needs to "strengthen"

Although the current LED industry in Zhongshan is not small, the overall equipment is still relatively backward. Most enterprises are difficult to manufacture products that meet the requirements of the high-end market. The scale of enterprises is generally small, and there are fewer leading enterprises. Most LED companies mainly produce decorative lamps. There is a certain gap between the high-power and high-efficiency technology pursuit of lighting.

On the 20th, many domestic experts and scholars gathered in Xiaolan Town to make suggestions for the development of Zhongshan LED industry. "Enterprises should now focus on scientific research and supporting construction to avoid blindly expanding production." Ren Yuanhui, deputy director of the National Lighting Association and National Lighting Standards Technical Committee, said that high-end technology is what LED companies need to master at present.

Bingwen, director of the Zhongshan Lighting Association, said that Zhongshan's advantage in the LED industry lies in application and packaging, not in research and development. Therefore, the focus should be on the first two. There is no need to put too much energy into research and development. . Another expert believes that the introduction of high-tech talents is still the key to whether this new light source industry can achieve rapid development. Such technical talents include those with a professional background in light source or a relatively familiar understanding of light source materials.

planning

1. Gushen Highway built LED industry belt

At present, in the three links of LED chip, packaging and application, Zhongshan already has two links of packaging and application, and upstream chip companies are also introducing.

"In terms of chip manufacturing, in fact, some enterprises have begun to cooperate with Tsinghua University, Peking University, Huagong and other universities for production, education and research." Ye Jianwei, deputy researcher and economist of Zhongshan Economic and Trade Bureau, said that by referring to the "Zhongshan Lighting" regional brand, the government will Mulinsen is the leader, focusing on the development of key technologies for LED packaging and semiconductor lighting manufacturing, and introducing advanced chip manufacturing companies upstream of LED. The municipal government has also planned to build a Zhongshan LED industrial belt covering the towns of Xiaolan, Guzhen, Henglan and Banfu along the Gushen Highway to form an LED application industry chain based on LED packaging and LED lighting.

2. Xiaolan builds the largest LED market in China

As more and more lighting areas are replaced by LEDs, many towns in Zhongshan are now planning to enter this new energy market. For example, Xiaolan, who invested heavily in the LED field last year, will also launch an intensive trade city project for LED new light source products, which integrates trading, display and design, during the "3·28" this year – LED China Kyushu City. Zhang Liqiang, general manager of Zhongshan Jiuzhou Guanggu Commercial Development Co., Ltd. said that the LED China Kyushu City, which is being planned, will become the largest LED market in China after its completion.

Led Curtain Display screen,with unique novel structural design,can roll 360 degrees and change up and down along any curved surface screen,which can meet any irregulary requirements of actual surface.With plastic structure frame, LED curtain display screen ensures high definition and ultra-slim and ultra-light.Besides offering complete and best solutions,Shenzhen Cxcolor Optoelectronic Company limited is a professional manufacturer specialized in Led Display Screen,LED stage rental display screen,Led Advertising Display screen,small pitch Led Display screen,LED transparent display screen,vehicle LED display screen,LED spherical display screen,LED energy-saving display screen.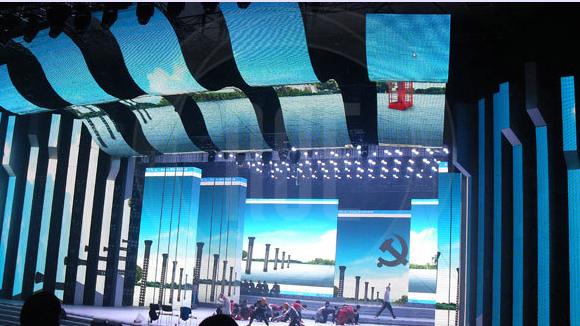 Led Curtain Display,Led Wall Display,Rental Led Curtain Display,Flexible Led Curtain Display

Shenzhen Cxcolor Optoelectronics Co., LTD. , http://www.largeledscreen.com