China Wholesale Websites 17"-42" LCD TV Mount Bracket (CT-CLCD-106)>
Model NO.: CT-CLCD-106

Max Vesa: 200X200mm

Recommended TV Size: 17"-37"

Tilt: -15 to 15degrees

Swivel: +/-90 Degrees

TV to Wall: 1000-4000mm

Loading Capacity: 30kgs/66lbs

Cable Management: Including

Bubble Level: N/a

Level Adjustment: N/a

Trademark: CHARMOUNT

Transport Package: Colorful Box

Specification: TV Mount

Origin: China

Model NO.: CT-CLCD-106

Max Vesa: 200X200mm

Recommended TV Size: 17"-37"

Tilt: -15 to 15degrees

Swivel: +/-90 Degrees

TV to Wall: 1000-4000mm

Loading Capacity: 30kgs/66lbs

Cable Management: Including

Bubble Level: N/a

Level Adjustment: N/a

Trademark: CHARMOUNT

Transport Package: Colorful Box

Specification: TV Mount

Origin: China

Product Description

 
China wholesale websites 17"-42" lcd tv mount bracket
Model No.:CT-CLCD-106

OEM & ODM SERVICE OFFERED !

 
| | |
| --- | --- |
| Specification | TV Mount |
| Grade Series | Â CEILING TV BRACKET |
| By Function | Â Tilt |
| By Mounting Pattern | VESA |
| Main Material | Cold Rolled Steel  |
| Available Color | Black & White |
| Max VESA | 200x200mm |
| Recommended TV Size | 17""-37" |
| Tilt | -15 to 15degrees |
| Swivel | Â +/-90 degrees |
| Level Adjustment | N/A |
| TV to wall | 1000-4000mm |
| Loading Capacity | 30kgs/66lbs |
| Cable Management | Yes |
| Bubble Level | N/A |
| Strength Tested | 3 times |
| Packing | Colorful Box |
| Easy Installation | Yes |

OEM &Â ODM SERVICE OFFERED !


    We have been exporting all kinds of speaker stand, keyboard stand, guitar stand, music stand, microphone stand , LCD mount stand, plasma mouts, light stand etc.For many years.
  
    Please contact with us directly for more other products.

MORE PICTURES OF PRODUCT: Â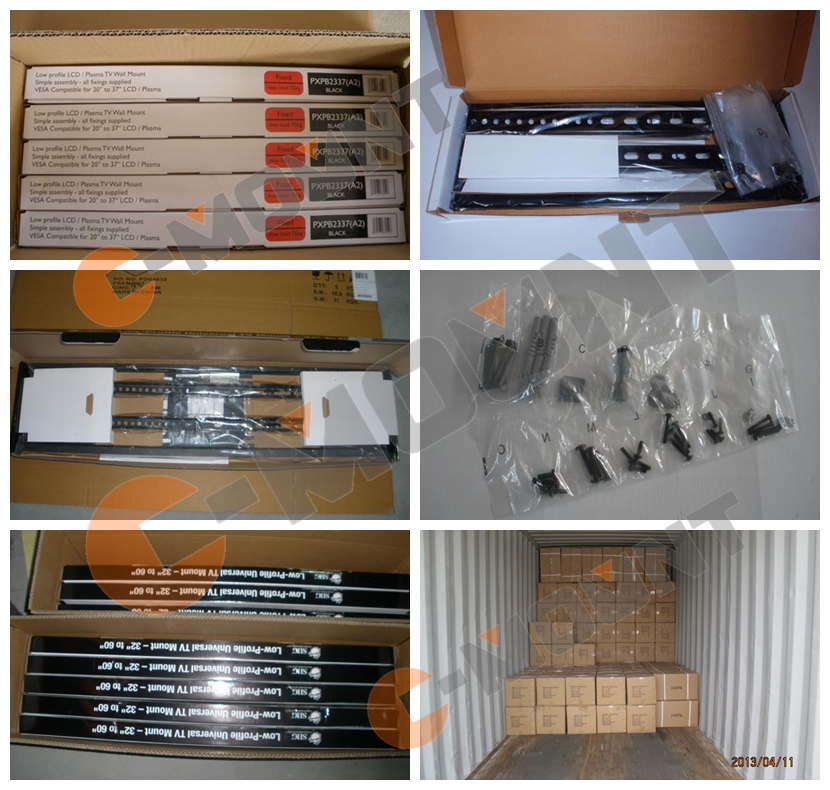 MORE Â ABOUT Â US !!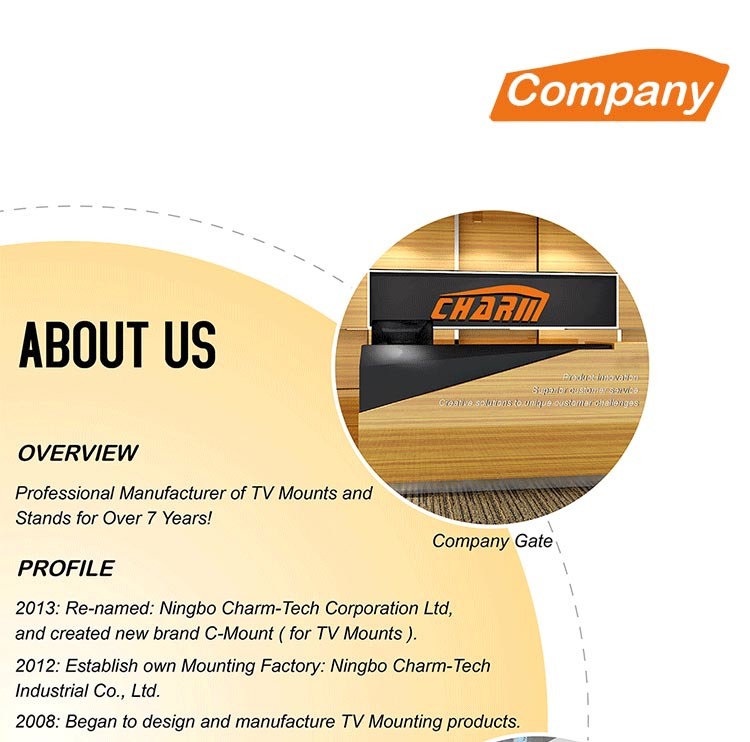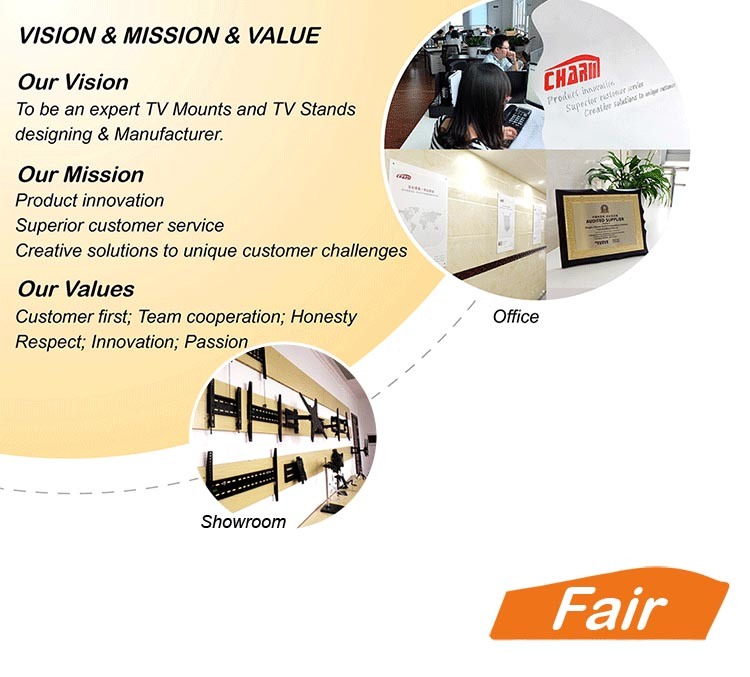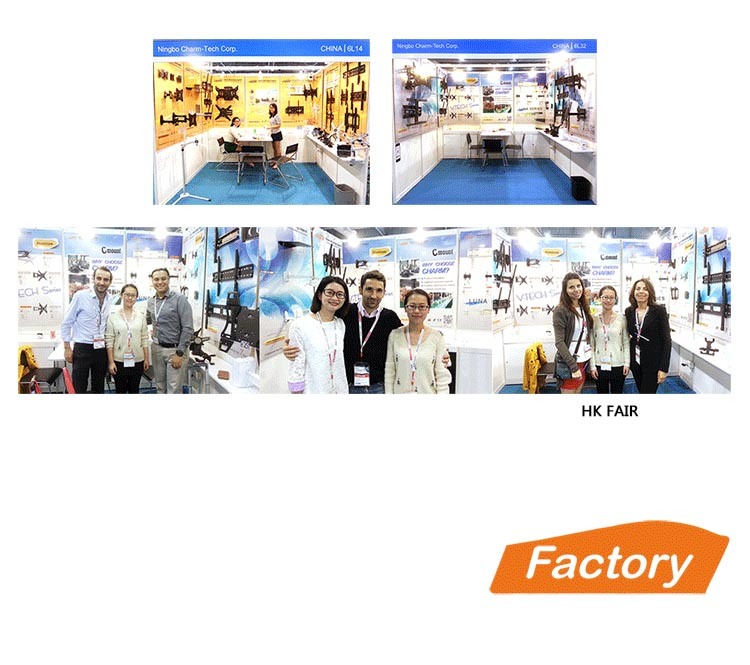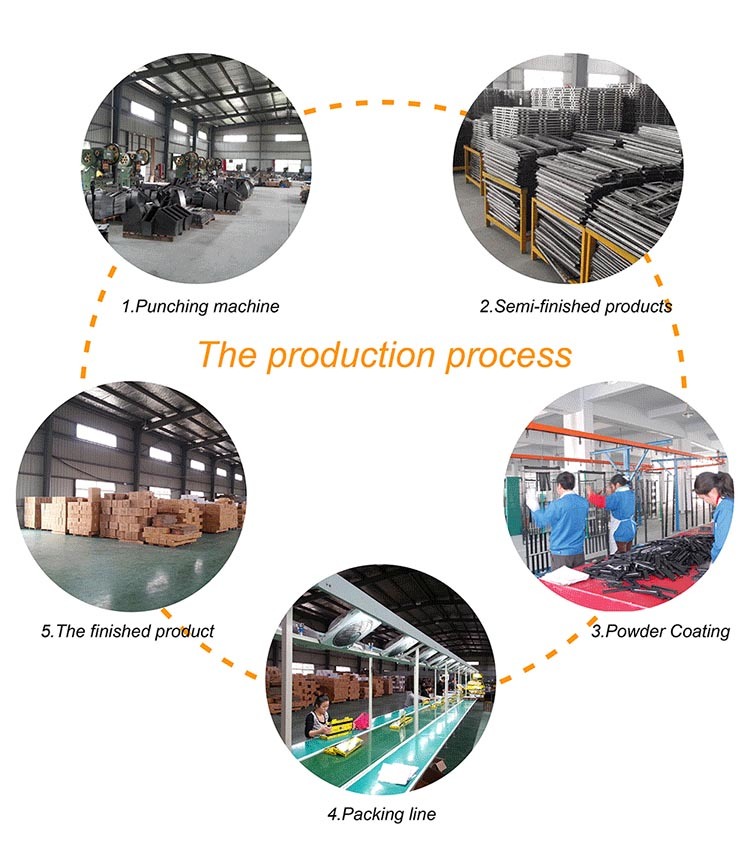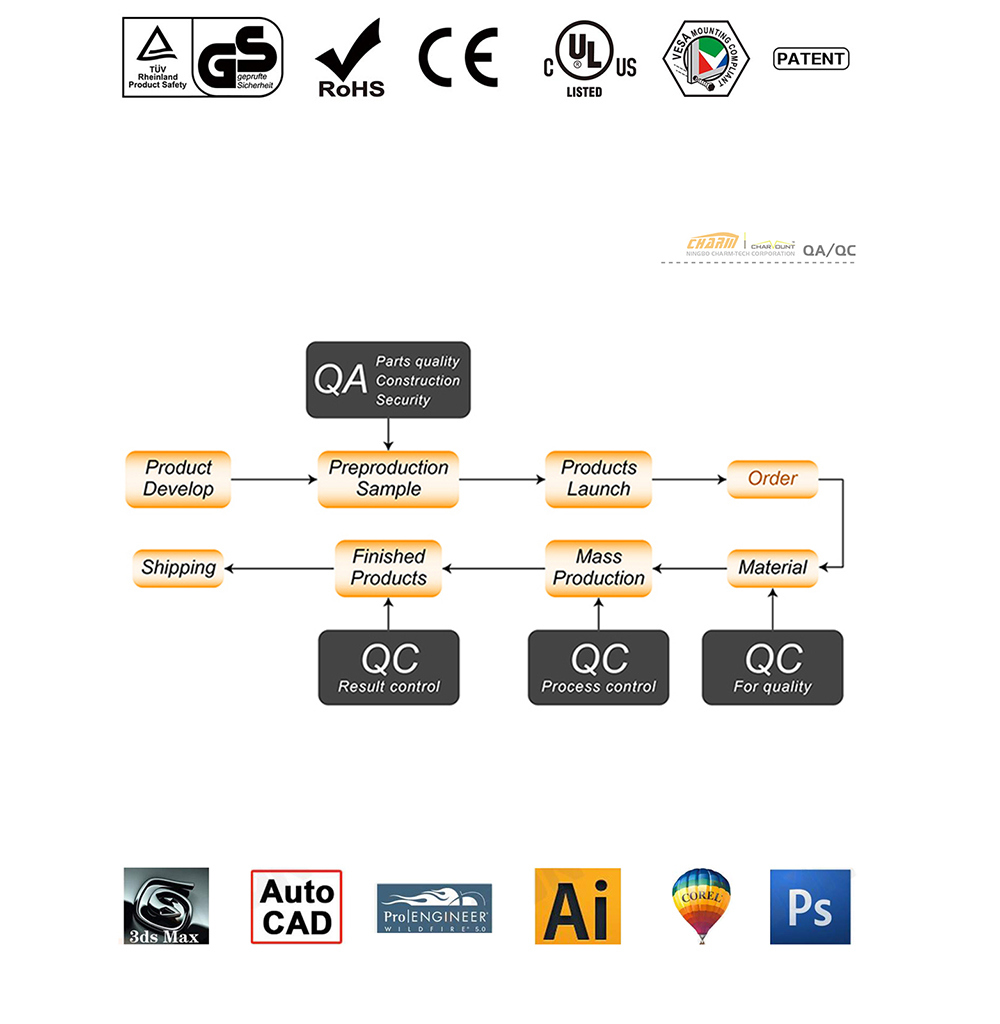 ABOUT US:
 

    Ningbo Charm-tech Corporation Ltd is a professional supplier dedicatedly engaged in designing, manufacturing and marketing flat panel TV Mounts, TV Stands, projection screen as well as other mounting solutions for consumers electrics widely used in residential life and commercial activities.


    Charm-tech are constantly introducing new technology and original design into the furniture to help you create a fantastic atmosphere in your living room, and make your home with a sense of exclusiveness.Whether flat panel TVs or computer monitors, DVD players or any AV equipment, there's a Charm-tech solution for every application.

Our Manufacture Center

    Charm-tech keeps paying close attention to the world's leading manufacturer of home entertainment systems.With bunches of first-class equipments like Welding robot operation, CNC punch machine, laser cutting machine, slow speed wire cutting machine,
Another Charm-tech industrial park covers an area of 20000 square meters.With 5Â production line and over 300 workers in production center.Over 30 experienced engineers in Charm-tech could carry out their innovative and creative drawings into real product.

Vision &Mission

Our Vision
To be an expert TV Mounts and TV
Stands designer &Â Manufacturer

Our Mission
Product Innovation
Superior customer service
Creative solutions to unique customer challenges

Product Description

 
China wholesale websites 17"-42" lcd tv mount bracket
Model No.:CT-CLCD-106

OEM & ODM SERVICE OFFERED !

 
| | |
| --- | --- |
| Specification | TV Mount |
| Grade Series | Â CEILING TV BRACKET |
| By Function | Â Tilt |
| By Mounting Pattern | VESA |
| Main Material | Cold Rolled Steel  |
| Available Color | Black & White |
| Max VESA | 200x200mm |
| Recommended TV Size | 17""-37" |
| Tilt | -15 to 15degrees |
| Swivel | Â +/-90 degrees |
| Level Adjustment | N/A |
| TV to wall | 1000-4000mm |
| Loading Capacity | 30kgs/66lbs |
| Cable Management | Yes |
| Bubble Level | N/A |
| Strength Tested | 3 times |
| Packing | Colorful Box |
| Easy Installation | Yes |

OEM &Â ODM SERVICE OFFERED !


    We have been exporting all kinds of speaker stand, keyboard stand, guitar stand, music stand, microphone stand , LCD mount stand, plasma mouts, light stand etc.For many years.
  
    Please contact with us directly for more other products.

MORE PICTURES OF PRODUCT: Â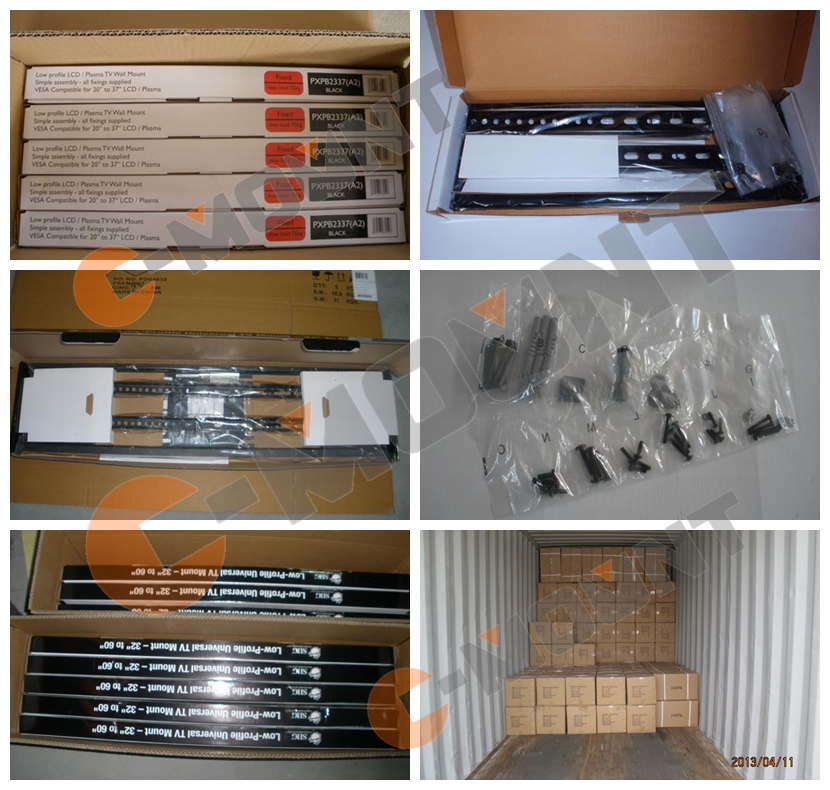 MORE Â ABOUT Â US !!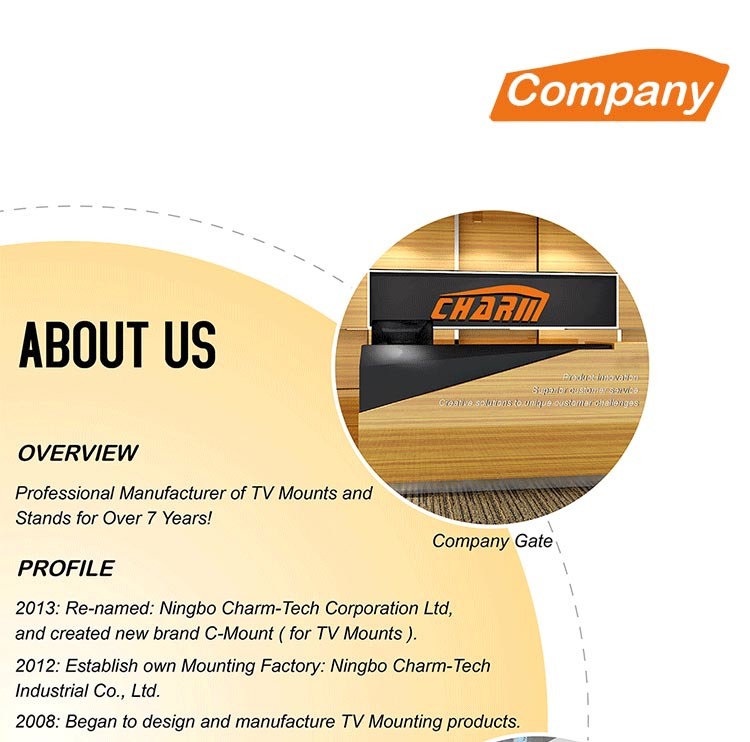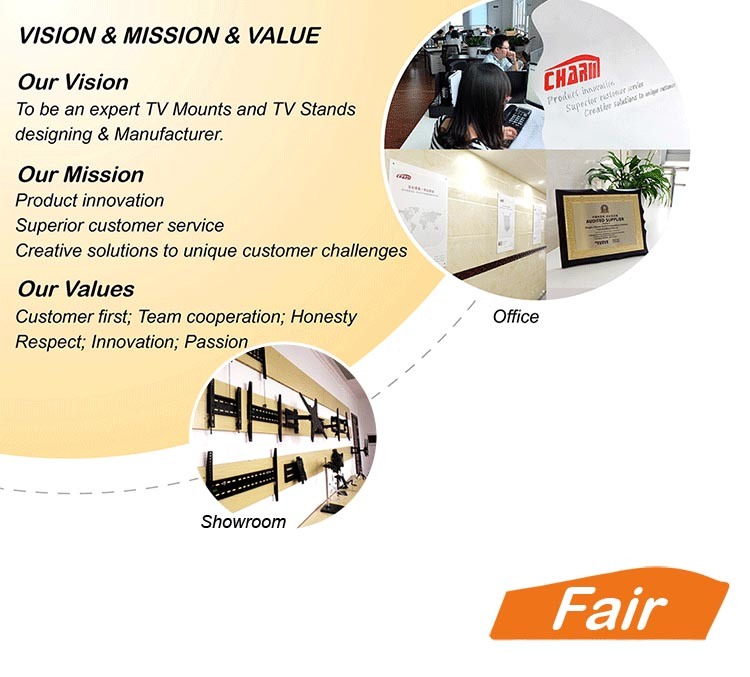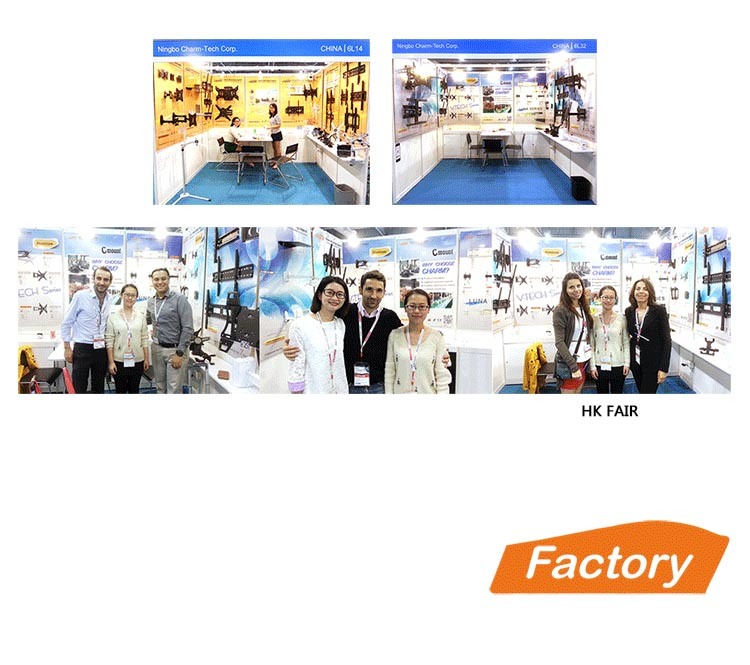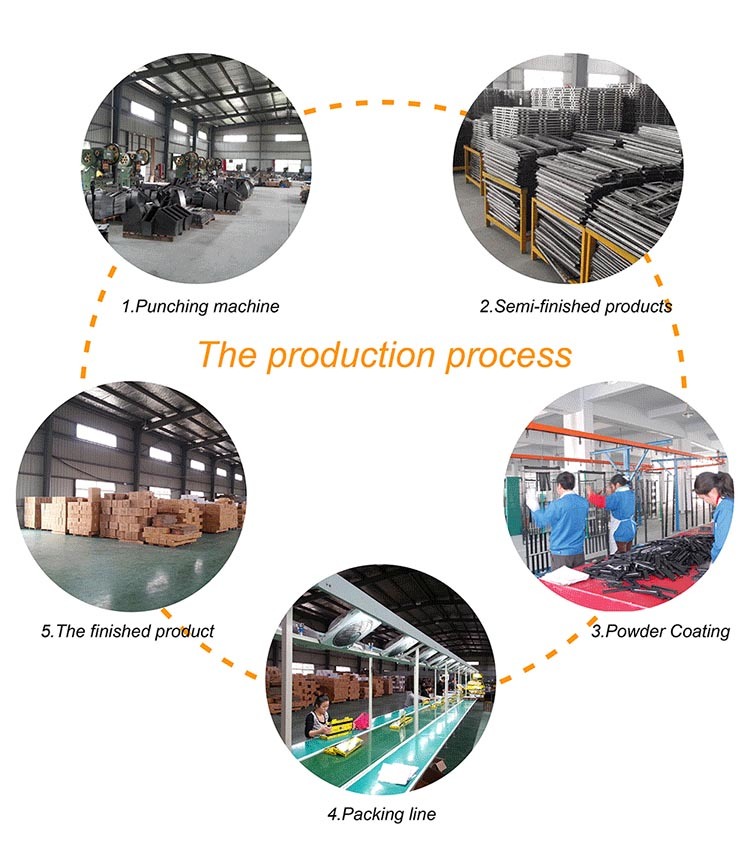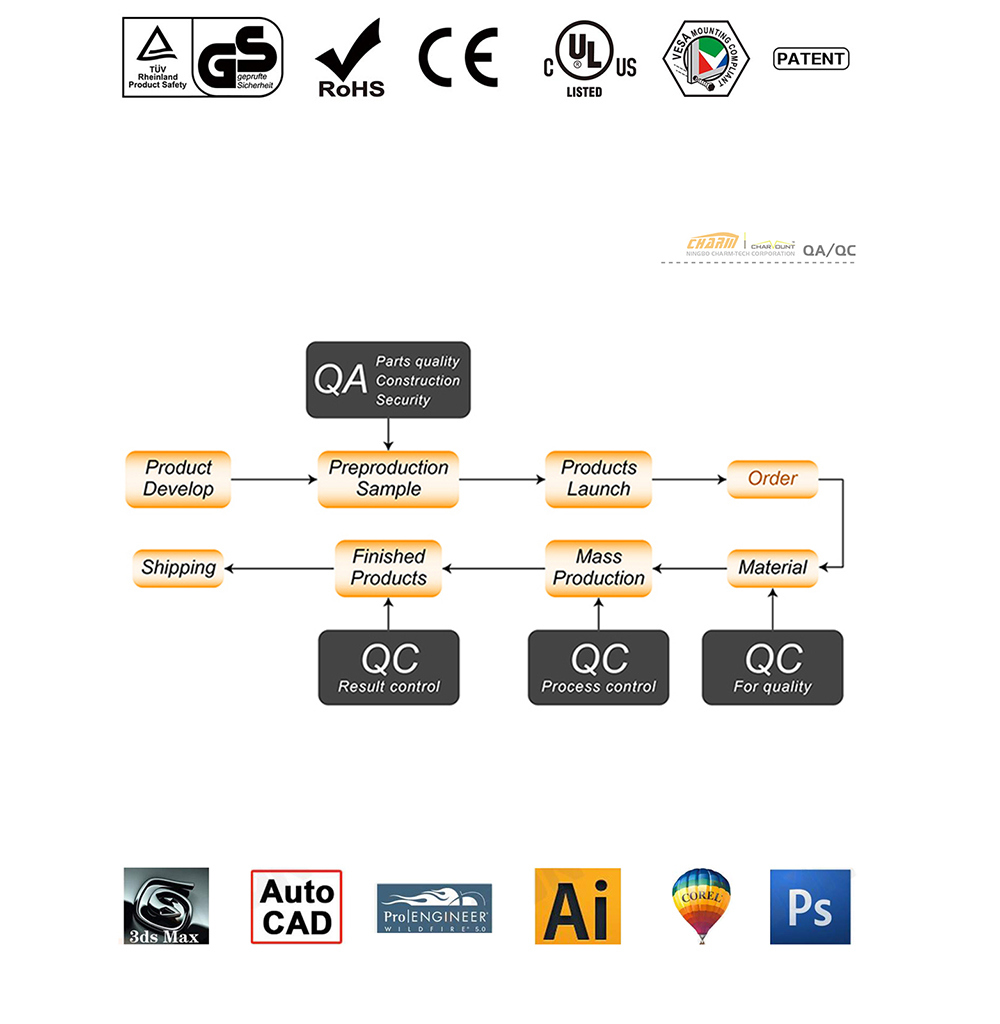 ABOUT US:
 

    Ningbo Charm-tech Corporation Ltd is a professional supplier dedicatedly engaged in designing, manufacturing and marketing flat panel TV Mounts, TV Stands, projection screen as well as other mounting solutions for consumers electrics widely used in residential life and commercial activities.


    Charm-tech are constantly introducing new technology and original design into the furniture to help you create a fantastic atmosphere in your living room, and make your home with a sense of exclusiveness.Whether flat panel TVs or computer monitors, DVD players or any AV equipment, there's a Charm-tech solution for every application.

Our Manufacture Center

    Charm-tech keeps paying close attention to the world's leading manufacturer of home entertainment systems.With bunches of first-class equipments like Welding robot operation, CNC punch machine, laser cutting machine, slow speed wire cutting machine,
Another Charm-tech industrial park covers an area of 20000 square meters.With 5Â production line and over 300 workers in production center.Over 30 experienced engineers in Charm-tech could carry out their innovative and creative drawings into real product.

Vision &Mission

Our Vision
To be an expert TV Mounts and TV
Stands designer &Â Manufacturer

Our Mission
Product Innovation
Superior customer service
Creative solutions to unique customer challenges