Tianchuang BIAMP Online Training - Application Solution for TesiraFORTé>
This issue of Biamp online training will give you some examples of Biamp's latest product TesiraFORTÉ. TesiraFORTÉ is a mini Tesira server with fixed 12 inputs and 8 outputs. It is part of the Tesira family and is compatible with all Tesira series products. There are four models in total.

1. AI – used for ordinary conference room sound reinforcement,

2. CI – for conference rooms with video decoders or various IM software for video conferencing.

(eg Skype, Microsoft Lync, QQ, etc.)

3. TI – with a common analog phone line interface,

4. VI – with VoIP phone interface.

In recent years, there have been many large (including multiple rooms and spaces) projects where customers require localized DSP processing and centralized processing/management of dual insurance designs. This requires that the DSP processor used must be miniaturized and audio networked. Due to the fixed port design, TesiraFORTÉ is only 1U in size and has very low noise for easy installation anywhere in the room. TesiraFORTÉ supports AVB, so it is easy to interoperate and centralize and manage each room. It can realize dual backup of local and centralized processing.

Training time: October 20th, Tuesday 10:00am-12:00pm

Number of participants: 200 seats (First registered first, if the registration is full, please send an email to us and we will give priority to you in the next round of training. If you are unable to attend the training in time for any reason, please cancel the registration in time.)

training content:

v TesiraFORTÉ Hardware and Software Introduction

v USB configuration and application

v Analog and VoIP phone port configuration

v TesiraFORTÉ system size and network topology

v TesiraFORTÉ Various application cases

v TesiraFORTÉ system control

Target audience: design, DSP programmer, pre-sales engineer, project manager

Course features: 50 minutes per lesson and 15 minutes in the middle. Answer questions after the course.

How to sign up for training?

1. Click on the link for Biamp "Online Training": https://student.gototraining.com/4y3m9/catalog/1885691371910763264

2. You will see the BIAMP training registration interface: find the course and time you want to register, click "Register" to register.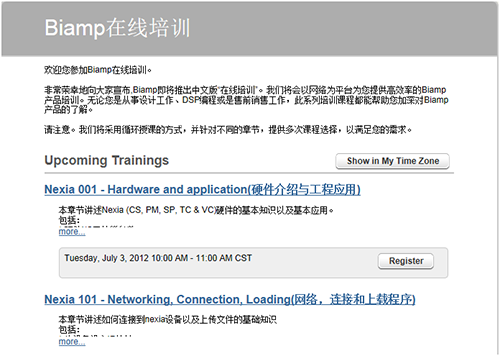 3. Please fill in the registration form as shown below. When you are done, click on "Join Training in Progress"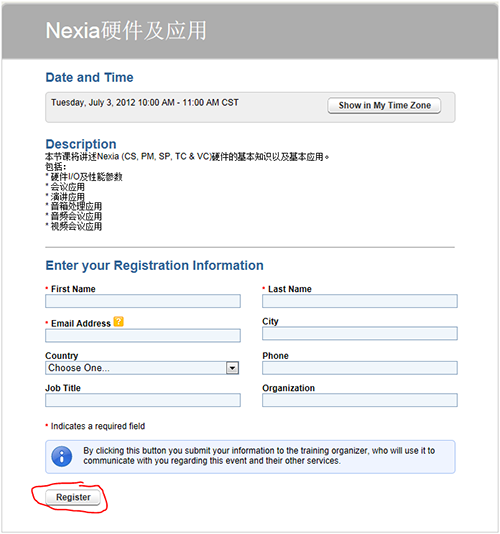 4. After the registration is successful, you will see the following page, indicating that the registration is successful. At the same time, you will receive a confirmation email.

In addition, one hour before the start of the training, you will receive a reminder email. 10 minutes before the start of the training, you can enter the training by mail link or by clicking the link in the red box in the figure below.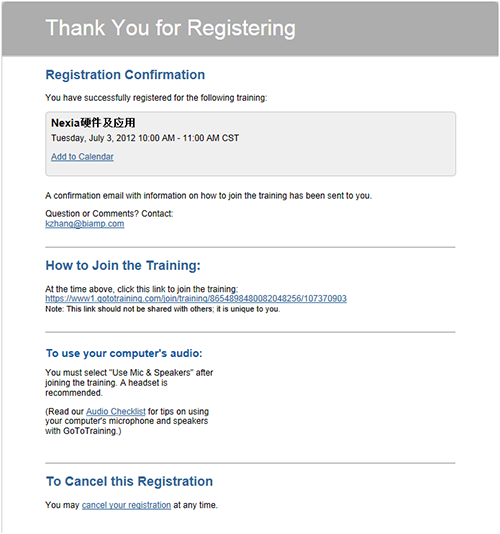 Note: If you are logging in to this system for the first time, you need to install the relevant plugin. (User-side training software is free to use.)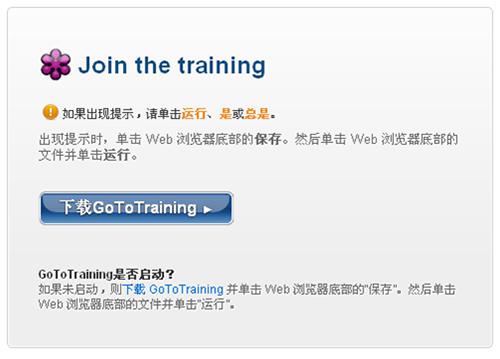 Please click "Download GoToTraining". Download and install the online training plugin.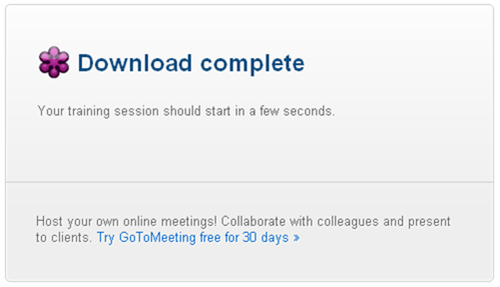 Indicates that the installation is complete, and you can enter the training interface after a while.

5. After entering the training interface, you will see the menu bar as shown below in your upper right corner: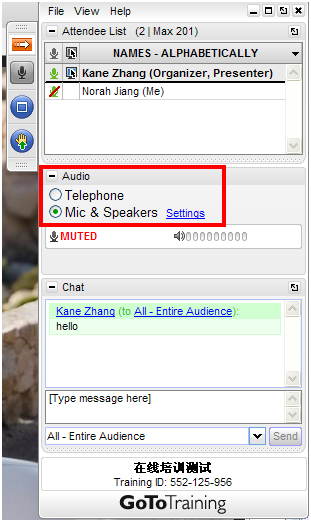 Please select "Mic & Speakers" under "Audio" and adjust the volume of your microphone and headphones.

You can type in the "Chat" window to ask questions, and the instructor will communicate with you in real time about the questions you ask.

I wish you all the best in BIAMP Chinese training, sharing experience and happiness.

If you have any problems during the registration process, please send an email to the inquiry.

The Huawei Btatery Case clarified to Huawei Mate 9 Battery Case, Huawei P9 Battery Case,Huawei P10 Battery Case,Huawei P10 Plus Battery Case and more models are under designing.All these Huawei Phone Charger Cases are easy to push and pull, convenient to disassemble.With Independent key, and sensitive rebound,it`s overall protection and more safe.Four Power LED indicator:1%~25% / 25%~50% / 50%~75%/ 75%~100% makes you no worry about power again.Large and full capacity makes the Huawei Battery Case long lasting and durable,we promise 1 year warranty time and all of our products have passed CE/RoHS/FC/PSE certificates and our defective rate is very low cause of extreme strict inspection before out of factory.

Huawei Battery Case

Huawei Battery Case,Quality Huawei Battery Case,Useful Huawei Battery Case,Economical Huawei Battery Case

Shenzhen Hequanqingnuo Electronic Technology Co., Ltd. , https://www.hqqnbattery.com