TCL's third-generation black crystal ultra-thin TV C1 listed, creating a new height in the industry>
It is understood that as the third generation of black crystal ultra-thin TV, C1 created a "thin, black, fast, tide" four advantages, not only to achieve ultra-thin metal body, equipped with the third generation of true color high color black crystal The technology screen, and the use of 64-bit BIT chip, 2GB memory super configuration, and the first to bring C Sports, K Friends of the exchange, Tencent video and other entertainment new applications.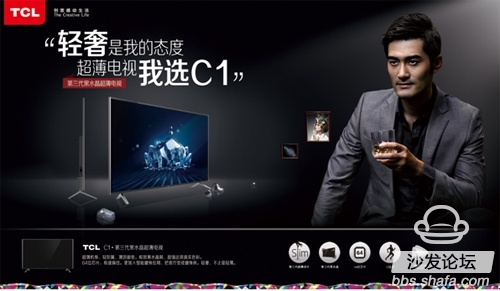 According to industry insiders, TCL C1 brings a more fashionable and light luxury ultra-thin television product under the premise of fully guaranteeing the best sound and picture quality experience. It has become a fashionable indicator of light luxury living, and has also created a light luxury. TV has a new banner.

Scientific ultra-thin protection quality, TCL C1 to create the highest level in the industry

It is reported that as early as in 2009, TCL launched the ultra-thin television C10 series in the world. With its outstanding appearance and innovative concept, TCL has won numerous international awards such as international "red dot" and "IFA", and has launched TCL globally. The exploration process of ultra-thin TV. Last year, TCL launched the H7800 series of smooth integrated ultra-thin design, not only thinner, more stylish, but also the first to introduce TCL true color high color gamut technology, giving the global TV market a huge surprise. At this point, TCL has successively completed the research and development and technology accumulation of two generations of ultra-thin TVs, and it is in the industry's first-mover advantage.

As the third-generation black crystal ultra-thin TV, TCL C1 leads the global ultra-thin TV again to a new height of development. Through the four advantages of "thinness, blackness, fastness, and tide", C1 truly realizes practical and aesthetic compatibility, quality and luxury, coexisting with scientific ultra-thin design concepts to resist the initial signs of the industry to give up quality and quality for the light and thin. Improper behavior created the best product experience for the current ultra-thin TV.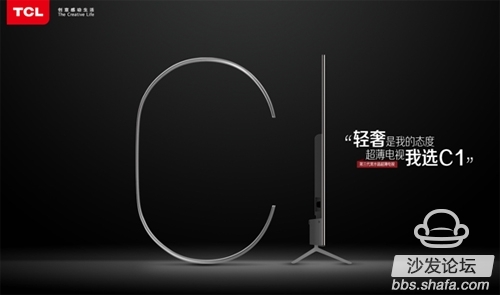 It is understood that C1 not only has ultra-thin all-metal body design, fashion sense explosion, but also uses a double reinforced shaft, aluminum titanium alloy back plate, curved edging design, triple technology to ensure that the TV does not bend, do not shake, to achieve more Reasonable and more scientific ultra-thin design. First of all, the C1's double reinforced axle design provides a strong reinforcement for the TV body, achieving double-sided body support and more straight uprightness. Secondly, the C1 backplane uses an aluminum-titanium alloy design specifically for Apple mobile phones, which is durable and not deformed, in line with world-class product materials. In addition, C1 also took the lead in the use of scroll-style side frame design, arc-shaped wrapping edge gap, effective moisture, dust, to provide users with art-like fresh and enjoyment.

At the same time, in order to achieve a better viewing experience, TCL is also the first to integrate the industry's third-generation high-gamut black crystal screen and HDR technology into C1, so that C1 not only has "face", but also "connotation." It is understood that C1 uses the third generation of high-range black crystal technology, not only the surface of the nano-coating, to prevent reflection and greatly enhance the quality of contrast and performance, and color gamut coverage increased to 96%, far ahead Other ultra-thin TV products achieve richer colors and more authentic colors, restoring natural and comfortable color perception. C1 also applied HDR high-dynamic image contrast technology to ultra-thin TVs to provide a wider range of brightness on the one hand, achieving brighter highlights, clearer darkness, and closer brightness to human eyes; On the one hand, C1's color gradation is more abundant, which can make the created scene more colorful and more layered.
"C1 is the real scientific ultra-thin." From the observer's point of view, only TCL's C1 can guarantee the true ultra-thin and ultra-thin line with the fashion crowd while ensuring the viewing quality and sound quality. Light luxury living needs.

Light luxury quality, TCL C1 achievement fashion vane

In the terminal store, when C1 was put on the booth, it immediately attracted a lot of attention. Many consumers have pointed out that from the perspective of the whole machine, the ultra-thin design of the C1 and the black crystal screen are seamless, giving people a sense of atmosphere, high-end, full of charm, and a strong visual impact.

The beautiful appearance is obviously not the full capital of C1. Apart from its impressive hardware advantages such as "thin" and "black," its powerful intelligent applications also bring surprises. At present, most smart TVs still stay at the stage of 32-bit chips and 1G memory. C1 is the first to lead ultra-thin TVs into the era of 64-bit chips and 2G large-memory devices, and it is equipped with dual-channel dual-channel WIFI and other powerful hardware configurations. Large 3D games, multitasking, or ultra-high-definition playback can all be easily mastered, turning the TV into a monster that performs well on computers.

"I didn't expect to spend extra money on an extra game console and enjoy the pleasure of sports on TV." Some consumers said that in the past, if you wanted to use TV to do sports, you would normally spend three or four thousand yuan on XBOX or something like that. Home game consoles, now that you have C1, you can simply use sports and fitness. It is understood that C1 is equipped with a "C-sports" function that focuses on family fitness and entertainment. It includes running, yoga, dancing and other fitness exercises. It can also compete for doubles, allowing fitness to be achieved without leaving home. At the same time, C1 also took the lead in uploading Tencent video, covering domestic cinema movies and 2015 hit dramas, and also has a wealth of exclusive overseas film and television copyright resources, and exclusive 4K area, H.265 film source, no longer afraid of not The video read.

"No matter if it is a fashionable design or an application experience that leads the trend, C1 can be said to have become the current fashion indicator of the color TV industry and represents a light and extravagant lifestyle." Observers believe that people who pursue a high quality of life, They all look forward to a light and luxurious life experience. In fact, light and extravagant are not far away. C1 is one of the most representative light luxury goods nowadays. In his opinion, C1 not only has amazing external beauty, but also exceeds a single point in terms of craftsmanship and texture. It can give users a fashion experience that is totally different from traditional color TV products. It is the highest taste of personal taste in the living room. Good highlights.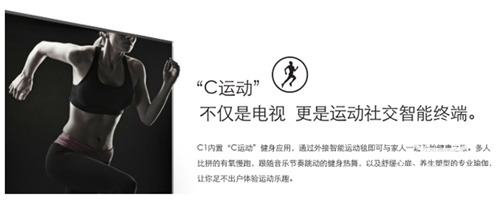 Choosing C1 is to choose a light luxury lifestyle. For the product concept conveyed by C1, many consumers have given their approval. In their view, TV is the most important part of upgrading the style of living room. C1 is full of spiritual sense of fashion and makes homes light and spacious. "The feeling of C1 is just like the light luxury feeling of Apple Iphone. It looks pleasant and comfortable. There is no better choice than this." Some consumers think that buying C1 will be a A wise choice can satisfy people's pursuit of high-level spiritual needs of light luxury living, and can bring a clearer, smoother, and more stunning viewing experience than ordinary television.

It is also understood that C1 not only has the best quality, but also the best price/performance ratio. Recently, in order to celebrate the 34th anniversary of its founding, TCL opened a big "TCL user feedback season, love you forever," thankful feedback, with the best products, the most affordable price feedback tens of millions of new and old customers. Among them, C1 participated as the protagonist of this event.

FGI `s Dry type Transformers` materials are of high quality, scientific formula, and adopt advanced production testing equipment to produce according to strict process. FGI `s Dry Type Transformer has the characteristics of high reliability and long service life. Depending on the environment, different enclosures can be configured. It can be used as an upgraded product for dry transformer with low loss, low noise, obvious energy saving effect and free maintenance.

FGI `s distribution transformers have the characteristics of low empty load loss and low operating cost. The positioning and connection of the body is firm, so the effective protection of distribution transformer is greatly enhanced. The overall structure is superior, the Electrical performance is good, and the product reliability is high. The National Transformer Quality Supervision and Inspection Center passed all the tests for FGI `s electricity transformers including short-circuit withstand capability. The type of transformer contains oil immersed power transformer and dry type transformer.

Transformers

Dry Type Transformer,200 Kva,50 Kva,500 Kva Dry Transformer,Dry,Electrical,Power Distribution Transformer,Abb,Distribution Transformers Connections

FGI SCIENCE AND TECHNOLOGY CO., LTD , https://www.fgi-tech.com